Taking Pictures of Polar Bears
Randy
1 Comment
Getting great pictures of polar bears isn't as difficult as you might think. It's easy to conjure up images of photographers with huge lenses and tripods as big as scaffolding getting that perfect "National Geographic moment", but with today's digital cameras and easy access to these charismatic bears on a polar bear tour, almost anyone can come away with a shot worthy of hanging on your wall.
This photo was taken recently using only an iPhone when I was on our recent Seal River Fall Photo Safari: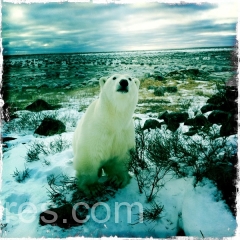 There are several reasons why getting pictures of polar bears is easy (and fun!) – polar bears, being at the top of the food chain, are afraid of very little, including you (!), and the concentration of bears around the Churchill area during the summer and fall months is quite high.
While longer, more powerful telephoto lenses do give you more opportunities to photograph polar bears at a greater (not to mention safer!) distance, the bears often approach extremely closely on any of these polar bear tours. And, keep in mind that it's not always the extreme close-up that yields the best photo, but often a much more impressive shot simply contains the polar bears in a beautiful landscape: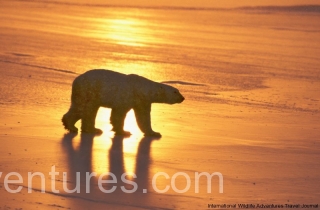 In the 25+ years I have been guiding polar bear tours to the Churchill region, I get asked all the time about "What lens should I bring?" for taking pictures of polar bears. For those with cameras with interchangeable lenses, the simple and most complete answer is, "everything you have!" It's a given among photographers that the lens you don't have is the one you will want.
For close-ups, obviously, longer lenses in the 400mm to 800mm range will give you the most options. Polar bears can appear on the horizon or within 10 feet of your Tundra Buggy, or 30 feet if you're on foot, like on one of our lodge-based trips. I personally have settled on a Canon 100-400mm zoom lens for most of my work and find that it covers almost every shot I want. It's a great compromise with size and weight and is easily hand-held or rested on a stable surface, as it is image-stabilized. Any lens in this range will be more than adequate.
But don't forget the wider-angle lenses either. The frozen tundra and jumbled sea ice can make for some outstanding landscapes, and if a polar bear is in them, so much the better! Plus wide-angle prime and zoom lenses are light, small and easy to pack.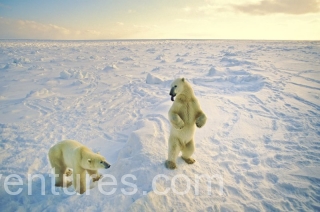 Check out all IWA's polar bear tours.
Related articles across the web
Related articles from our site
Related Images: