Polar Bears Face a Tough Winter as Temperatures Spike in the Arctic
Randy
0 Comments
A friend posted a disturbing picture on Facebook the other day, shot by a resident of Churchill, Manitoba on December 30, 2015.
At first there seems nothing out of the ordinary for this time of year. It shows the snowy shore of Hudson Bay, but looking closely, you can see waves breaking on the shore and open water beyond. Normally by mid-November, the ice stretches to the horizon and by the end of the year a major part of Hudson Bay is frozen over.
Most of us in the U.S. are aware of the wild weather swings that this year's "über" El Niño is causing: destructive tornadoes in Dallas and elsewhere, deep snowfall in West Texas and massive flooding in the Midwest and the Mississippi River. All unprecedented for early winter. And, 2015 looks like it will be the warmest year on record.
Now comes word that temperatures at the North Pole briefly spiked by some estimates as high as 40 degrees Fahrenheit above normal, pushing the temperature to 33 degrees (.7 degrees Celsius) , one degree above freezing. The Washington Post tweeted:
Warming episodes such as this contribute to the rapidly thinning sea ice at the pole: when there's less ice formed during the winter, summers are often much more ice-free. Each year in Churchill, Manitoba during the fall polar bear watching season, bears wait along the bay shore waiting for the water to freeze so that they can begin their annual seal hunt. The bears must have ice in order to hunt seals, which den on this same ice in the winter and spring. If they can't hunt seal, starvation comes rapidly because they have already been fasting some 5 months over the summer. Seals, too, cannot reproduce, which can result in a downward spiral for both species.
So where are the bears that headed out on the ice at the end of the polar bear-watching season this last November? Hopefully most remain on ice rafts further out to sea, but those that were not lucky  or savvy enough to find stable ice could likely drown. Polar bears are great endurance swimmers, but certainly can't swim forever.
As Arctic sea ice vanishes, sunlight which is normally reflected off the bright ice surface is absorbed by the darker sea water, further warming the water and storing heat and accelerating the warming of the planet – a vicious cycle that's probably impossible to stop.
My personal experience with the polar bears of Churchill began some 30 years when several of us developed and began operating polar bear watching tours aboard the monster vehicles which we called Tundra Buggies®. Back then, freeze-up was very reliably around the second week in November in most areas near Churchill. When freeze-up happened, the bears were gone overnight to begin their annual hunt, and our bear-watching season was over. Though it does vary from year-to-year, freeze-up now happens some two to four weeks later, around the end of November.
This trend, not surprisingly, is mirrored in the spring as the sea ice melts earlier, forcing the bears to begin their summer fasting earlier. The sum total shrinkage of the hunting season is now around a month shorter than historically. This would mean the bears could have a calorie shortfall of more than 10% of their normal diet, resulting in thinner bears and less food for pregnant females and their cubs.
Has a tipping point been reached in the survivability for polar bears? It's entirely possible, if this trend continues without reversal for more than a few more years. Already the vast boreal (northern) forests of Canada, Alaska and Russia are moving northward into the tundra at the rate of around 100 meters/year, bringing more southern species north into the polar bears' habitat. Reports of interbreeding between polar bears and grizzly bears are happening more frequently as the two species come into closer contact.
Evolution teaches us that if the environment changes faster than a species can adapt, it goes extinct. I, for one, hope and pray that this doesn't happen, certainly in our lifetime.
But it's not looking real good, folks.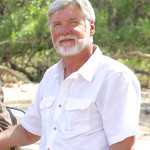 Photographer, writer and biologist Randy Green is director of International Wildlife Adventures (www.wildlifeadventures.com), which offers nature tours worldwide. He has traveled the Arctic for decades.
Related articles across the web
Related articles from our site
Related Images: