What's the Best Cruise to See Polar Bears?
Randy
0 Comments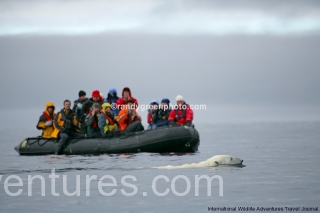 Polar bears are found all around the Arctic, from Alaska to Canada, Greenland and Norway to Russia. While IWA was instrumental in developing the now-famous polar bear watching opportunities in Churchill, Manitoba, many people would like to explore the Arctic by cruise ship to see polar bears.
So, what is the best cruise to see polar bears?
Without a doubt it's Spitsbergen.
The far northern island archipelago of Spitsbergen, also known as Svalbard, is located not far from the north polar ice cap and therefore attracts more than its share of polar bears. Not only do females den and bear their young in the wintertime here, but the islands are a favorite place for bears to retreat to in the summer when the pack ice retreats to the north. Astounding numbers of other wildlife inhabit this area during the summer also: walrus, seals and enormous colonies of seabirds such as guillemots, auklets and kittiwakes.
To see what an IWA cruise to Spitsbergen is like, check out an expedition log of a recent voyage made by IWA directors Randy and Susie Green, go to the blog entry Spitsbergen Cruise Log.
Spitsbergen has also been a historic staging ground for North Pole exploration. Legendary figures like Amundsen and Perry, and many others less-known made Spitsbergen their base for heroic assaults on the Pole. The ruins of many of these bases can be seen on our voyages, as can the camps and graves of many early whalers who plied these waters as long ago as the 1600s.
Although there are a few larger cruise ships sailing this area, the best cruise to see polar bears and other sights in this region of the Arctic is by small expedition ship with an ice-strengthened hull and a fleet of zodiacs, or inflatable boats, that can quickly and safely get modern-day Arctic explorers into position when wildlife is sighted. Their small size and shallow draft carry 10 to 12 people and permit exploration of ice floes, tiny coves and remote beaches where wildlife abounds.
We offer three excellent expedition-class vessels here during the Arctic summer: the M/V Plancius, M/V Antarctic Dream and the M/V Expedition. You can find out more about all three vessels on our Spitsbergen cruises page.
And, if the prospect of the best cruise to see polar bears isn't enough, we're currently offering several excellent discounts on selected voyages this summer on two of the three ships, the Antarctic Dream and the Expedition, so be sure to check out the Rates Page on each for more details.
Spitsbergen Gallery
Related articles from our site
Related Images: