Polar Bear Mothers with Cubs at Nanuk Lodge
Price: $8,795 CAD Days: 7
Nanuk Polar Bear Lodge in Northern Manitoba offers a pristine, wilderness area for viewing and photographing polar bear mothers with cubs while in a comfortable, just-remodeled lodge setting.
Leaving from the tiny outpost village of Gillam, we have a chance to spot beluga whales from the air as we fly over the mouth of the Nelson and Hayes Rivers.
This is a great wilderness area for a variety of wildlife to view and photograph.
Our base, Nanuk Lodge, is located on the Hudson Bay shoreline. The area is fenced off for safety but still allows for great observation and photography. Plus, daily excursions from the lodge onto the taiga and tundra will allow us to walk among the bears and other wildlife. Our experienced guides are well-versed in bear safety and use great care in not disturbing the bears.
This is a great polar bear tour for those wanting to see and photograph mothers with cubs as they congregate along the bay shore, waiting for the fall freeze-up. Other willdife can be seen such as caribou, foxes, moose, wolves and ptarmigan. It's also a great time to see the fall bird migration in full swing!
Highlights
Polar bear mothers with cubs up close

Migrating birds
Tundra hikes at ground level with the bears

Other wildlife such as fox, caribou, wolves & moose
Relaxing wilderness lodge accommodations
Excellent food
Top-quality local guides
ATV trips along the tidal flats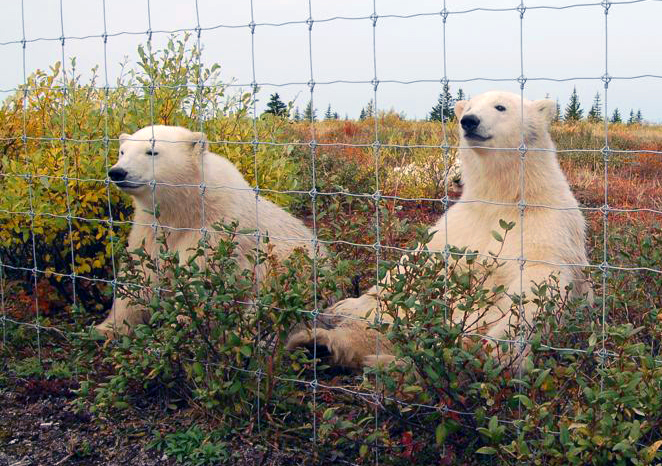 Day 1: Arrive Winnipeg. Overnight at  Inn at the Forks

Arrive in time to meet your group at 8:00 PM over coffee. 

Day 2: Fly to Gillam and on to the Lodge

Fly to Gillam early in the morning where you hop on your private charter for your remote wilderness lodge. Have your camera ready as there may be plenty to photograph on the way such as belguas at the mouth of the Nelson and Hayes Rivers. On arrival after getting checked into your room and a short orientation, you will be served delious lunch.
After lunch, your adventure begins! There will be an interpretive walk on the inland Palsa Bogs, Tundra Ponds, and Taiga Forest.  Appetizers and cocktails at 6:00 with dinner at 7 and bed at 10:00 when the generators are shut off. L,D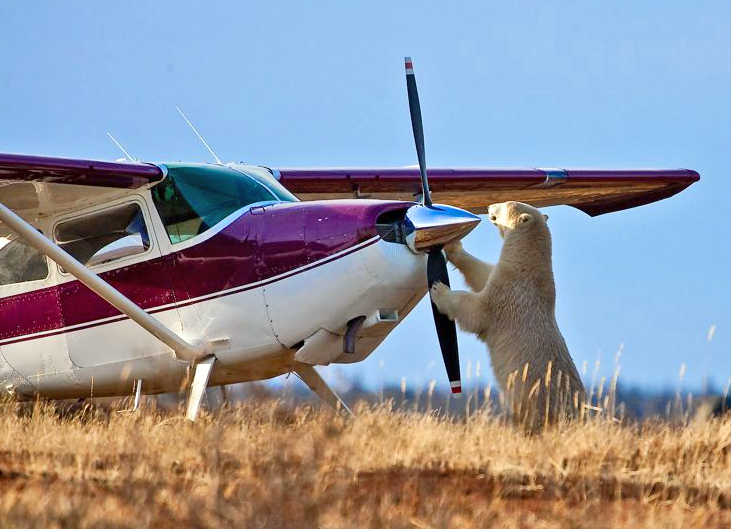 Days 3-5: Explore tundra and mothers and cubs close up

In the next several days, after breakfast that is served at 8:00 a.m., your daily excursions will begin at about 9:30 a.m. There are several excursions depending on weather, tides and group interest that you will enjoy.  If the bears are next to the lodge, we may delay our trek as we watch and photograph them up close. B,L,D. 
A typical day includes morning and afternoon excursions with lunch at the Lodge or a picnic lunch. 

ATV coastal tour to the tidal flats and Hudson Bay shoreline are included. Lunch and a tea are served around the campfire.

There will be full day tour of the coastline of Hudson Bay to photograph the polar bears along with other abundant wildlife in their natural landscape. Lunch and a tea are served around the campfire. After lunch explore along the river deltas and coastal eskers.

Staying close to the Lodge takes advantage of the opportunities that present themselves as the day progresses to photograph the King of the Arctic. Visitors are invited to embrace the Arctic environment. Lunch is served at the Lodge on this day.

Aurora Watching – The latter part of the season is the best time for Aurora watching. It can be the greatest light show on earth in summer. The northern skies are a perfect location for the dancing lights of the aurora. Bring a tripod to photograph the lights as it makes sharper photos.

Rest and Relaxation – Keep in mind, you are on vacation and if you decide to remain back at the lodge to relax, you should feel free to do so.
Day 6: Flight back to Winnipeg

Taking advantage of any last minute photo ops, pack your gear and getting ready to depart will be the end of the adventure.  A fabulous breakfast is served as well lunch before we depart on our charter flight to Gillam where we get the flight back to Winnipeg.   On arrival in Winnipeg, Inn at the Forks for your last overnight. B,L
Day 7: Depart for your home
After breakfast you can depart at anytime for home.
2015 Dates:
August 26-September 1, 2015
August 30-September 5, 2015
September 9-15, 2015
September 13-19, 2015
September 17-23, 2015
September 21-27, 2015
Rate information:
$8,795 CAD from Winnipeg, plus taxes of 6.5% based on double occupancy. 
Child rate: $7,895 for children 8-12 sharing with 2 adults.
Strong US Dollar translates to 15% or more savings!Because of the current exchange rates (January 2015) between the US and Canadian dollars, the US Dollar price for these trips is more than 15% less than the listed Canadian dollar price.  Call our office for a current quote.Private room rate: $16,295 CAD plus taxes of 6.5%. If you are traveling alone and would like us to arrange a suitable roommate, we will make every effort to do so.  If you prefer a room alone, then the private room rate applies.
Note: If guests are weathered in at the lodge a $200 per day supplement will be charged. 
To calculate today's spot exchange rate, click here.
Please note that this is the "spot" rate, and the actual bank exchange rate may vary a few points from this. Your exact rate will be determined at the time of your booking and payment in full. VISA and MasterCard accepted.
Tour Details
Registration: To confirm your space on this tour, please send a deposit of $3,500 CAD to our office. Balance is due 120 days prior to departure. Please note: Tour rates are based on Canadian Dollars.
Cancellation Policy: In the event you must cancel your reservation, refunds will be made according to the following schedule: Deposit non-refundable. All monies paid 120 days prior to departure,  100% non-refundable.
Insurance: Because many advance logistical arrangements have been made prior to the running of this trip, we must adhere to the above policy. In addition, please be aware that many insurance policies do not cover illness and accident expenses outside of the U.S., and Medicare does NOT cover any such expenses at all. In light of this, we strongly recommend trip cancellation and supplemental insurance.
Weather can be a factor in getting in and out of the lodge.  If you are delayed by weather, it will be at your expense in Winnipeg or Gillam and a rate of $200 additional will be applied to the lodge and paid at the lodge if you are stranded at the lodge.
A travel insurance form will be sent to you upon registration, or you can purchase it from our site by clicking on the "Purchase Travel Insurance" in the left-hand column. Our insurance carrier is Travelex.
Winnipeg: Inn at the Forks
Main Tour:
Nanuk Lodge is your home base for our Mothers and Cubs Polar Bear trip. This lodge was built on the shores of the Hudson Bay 250 kilometers southeast of Churchill, Manitoba, Canada.


Access: By air only, float plane, wheel plane or helicopter.

Location: 250 kilometers southeast of Churchill, Manitoba, Canada on the Hudson Bay coast.
Nanuk Lodge Features:
A viewing tower to take in the expansive tundra landscape and its wild inhabitants

Cozy common area with fireplace for evening wind down

8 guest rooms with private bathrooms


Full service gourmet meals

Electricity run by generators, every day
Radio/Telephone by satellite

Perimeter fencing for safety

Large windows for bear viewing