Summer Polar Bears and Belugas
Price: $9,695 CAD Days: 8
Explore the flowering tundra and Seal River estuary by land and by inflatable boat. Snorkel with friendly and curious beluga whales, and view teeming wildlife on the tundra, including polar bears, caribou, fox, wolves, moose, and hundreds of species of birds. Stay in the cozy Seal River Heritage Lodge on the shore of Hudson Bay and enjoy gourmet meals.
Highlights
Polar bears on flowering tundra
Snorkel with beluga whales
Nesting birds
Tundra flowers
Other wildlife such as fox, caribou, wolves & moose
Wildlife photography workshops
Explore Hudson Bay by Tundra Tracker
Relaxing wilderness lodge accommodations
Excellent food
Top-quality local guides 
Day 1: Arrive Winnipeg. O/N Inn at the Forks D

Day 2: Fly to Churchill. fly to Seal River Lodge

Fly to Churchill, where on arrival, you will be meet by a staff member and transported to the  Landing Lake for the float plane ride to the lodge. Have your camera ready for the breathtaking views from the air of the winding Hudson Bay where you will likely see huge pods of beluga whales, countless birds, caribou and polar bears!  The Seal River Estuary is a favorite summer resting area for the wildlife that is regularly seen swimming or basking near the water's edge.
On arrival, there be a brief orientation and then a wonderful lunch. After lunch, your first coastal experience will begin. There is a huge combination of coastal diversity with natural elements that would amaze anyone.  The first day at the lodge will be finished by the first of many gourmet meals in the newly built dining hall that is surrounded by picture windows.  Watch the tidal changes while eating dinner in this pristine wilderness.  After dinner, spend a relaxing evening getting to know the other guests by a cozy fire.  You have 5 more amazing days to go! L,D
Days 3-6: Explore tundra and Seal River Estuary for birds, bears and beluga whales.
In the next several days, after breakfasts are served at 8:00 a.m. daily excursions will begin at about 9:30 a.m. There are several excursions depending on weather, tides and group interest, that you will enjoy: B,L,D
Marine Tours – All Marine Tours are tide dependent but we plan to have at least two expeditions by boat to view beluga whales, seals, seabirds, and polar bears. The tours are  in conducted, nine passenger zodiacs, each equipped with two way radios, safety gear, floatation jackets for each passenger, and a hydrophone so that you can listen to the whale songs. Expeditions are typically half day in order to coordinate with the high tides. It is not unusual to get 30 whales surrounding our zodiacs due to their pure curiosity.  They are social by nature and curious so they come and check us out.  Getting up-close and personal with these amazing creatures has been life-altering for many people while snorkeling with them. You will suit up in dry suits for this excursion to ward off the chill of the Bay.

Trekking/Walking Tours – You will walk daily on the tundra as part of the trip.  There is no better way to get photographs at eye level of nesting bird life, fox dens, sik-sik dens, wild flowers,  polar bears, caribou and ancient tent rings. When polar bears are sighted, your guide will let you about the best way to maintain a safe viewing distance.
Coast by Buggy –   The Lodge has a custom made tracker buggy to make it easier to see the Hudson Bay coast line.  A day trip is offered on one of these vehicles which allows us to cover a lot of shoreline while searching out wildlife, polar bear foot prints and enjoying the scenery.  Lunch this day is a picnic en route.

Kayaks – There several sea kayaks and canoes on site for you to use at any time to do a short paddle.  Guests are often rewarded with being surrounded by belugas.
Aurora Watching – The latter part of the season is the best time for Aurora watching. It can be the greatest light show on earth in summer. The northern skies are a perfect location for the dancing lights of the aurora. Bring a tripod to photograph the lights as it makes sharper photos.

Bird Watching – There does not seem to be a better place on the planet for 150 species of nesting birds. Our guides can help you locate and identify a wide variety of these birds – chances are you will add several species to your life list.
Photo Presentations and Lectures – There are nightly lectures on "Traveling in Bear Country" to "Wildlife of the Arctic," from our own  adventurer guides. They enjoy sharing their past experiences with you with personal photos and stories of past experiences. 

Rest and Relaxation – Keep in mind, you are on vacation and if you decide to remain back at the lodge to relax, you should feel free to do so.

Day 7: Flight back to Churchill and on to Winnipeg.
After a fabulous breakfast with homemade breads, we begin our transfers back to Churchill. On arrival in Churchill, you will have time to explore the areas you had not explored on your first trip to town.  Your flight back to Winnipeg is in the late afternoon/early evening. On arrival in Winnipeg, transfer to Inn at the Forks for your last overnight. B
Day 8: Depart for your home
After breakfast you can depart at anytime for home. B
Strong US Dollar translates to 15% or more savings!

Because of the current exchange rates (January 2015) between the US and Canadian dollars, the US Dollar price for these trips is more than 15% less than the listed Canadian dollar price.  Call our office for a current quote.2015 Dates:
July 11-18, 2015

July 16-23, 2015

July 21-28, 2015
July 26-August 2, 2015
July 31-August 7, 2015 SOLD OUT

August 5-12, 2015
August 10-17, 2015 SOLD OUT
August 15-22, 2015 SOLD OUT
Rate: $9,695 CAD from Winnipeg, plus taxes of 6.5% based on double occupancy.
Child rate: $8,795 for children 8-12 sharing with 2 adults.
Private room rate: $17,895 CAD
 plus taxes of 6.5%.  If you are traveling alone and would like us to arrange a suitable roommate, we will make every effort to do so.  If you prefer a room alone, then the private room rate applies.
Note:

If guests are weathered in at the lodge a $200 per day supple

ment will be charged.
To calculate today's spot exchange rate, click here.
Please note that this is the "spot" rate, and the actual bank exchange rate may vary a few points from this. Your exact rate will be determined at the time of your booking and payment in full. VISA and MasterCard accepted.
Tour Details
Registration
To confirm your space on this tour, please send a deposit of $3,500 CAD to our office. Balance is due 120 days prior to departure. Please note: Tour rates are based on Canadian Dollars.
Cancellation Policy
In the event you must cancel your reservation, refunds will be made according to the following schedule: Deposit non-refundable. All monies paid 120 days prior to departure,  100% non-refundable.
Insurance
Because many advance logistical arrangements have been made prior to the running of this trip, we must adhere to the above policy. In addition, please be aware that many insurance policies do not cover illness and accident expenses outside of the U.S., and Medicare does NOT cover any such expenses at all. In light of this, we strongly recommend trip cancellation and supplemental insurance.
Weather can be a factor in getting in and out of the lodge.  If you are delayed by weather, it will be at your expense in Churchill and a rate of $200 additional will be applied to the lodge and paid at the lodge if you are stranded at the lodge.
A travel insurance quote will be sent to you upon registration, or you can purchase it from our site by clicking on the "Purchase Travel Insurance" in the left-hand column. Our insurance carrier is Travelex.
Winnipeg: Sheridan 4 Points
Main Tour: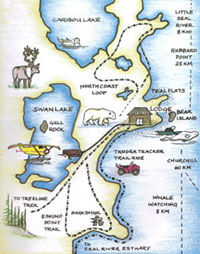 Seal River Heritage Lodge is your home base for both our Summer Polar Bears and Belugas and  the Seal River Fall Polar Bear Photo Safari. This eco lodge was strategically built on the shores of the Hudson Bay. The lodge recycles grey water, collects rain water, has solar panels to generate its own electricity--it is true eco lodge that has a 4 star class rating. The lodge is located near the Seal River estuary, it is home to some of the best whale watching in the world. The Seal River estuary, a short 8km boat ride from the lodge, is summer home to thousands of beluga whales.
Because of its distance from Churchill (a 60 kms and 30 minute flight), guests at Seal River Heritage Lodge can see the bay's infamous polar bears and a host of other wildlife on the Birds, Bears, and Belugas summer excursion, making it one-of-a-kind.
Access: By air only, float plane, wheel plane or helicopter.
Location: 60 kilometers north of Churchill, Manitoba on the Hudson Bay coast near the mouth of Seal River.
Features:
A viewing tower to take in the expansive tundra landscape and its wild inhabitants

Cozy common area with fireplace for evening wind down

8 double, triple or quad rooms each with their own private bathroom

Full service gourmet meals

Electricity 24 hours a day, every day

Natural gas and wood heat