---
Which polar bear tours are right for you? There are many styles, length and prices, so the choice can be a bit intimidating.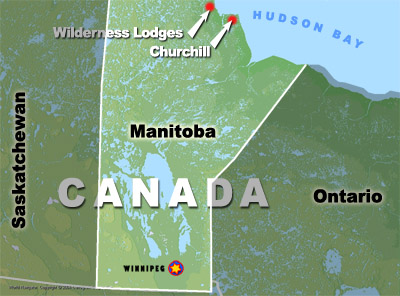 THE most reliable place in the world to see polar bears up close is in the Churchill, Manitoba area, known as "The Polar Bear Capital of the World" (see map).
Begin by deciding how much time you can spare and what your budget is. Cost can vary according to trip length, number of participants on the trip and the location and style of the tour. Do you prefer to stay in a hotel at night, or base your entire trip out of an enormous portable camp/bunkhouse on the shore of Hudson Bay? Or stay at a comfortable, remote wilderness lodge? All are great for seeing polar bears!
Below are brief descriptions of each of the polar bear excursions to choose from:
Tundra Buggy Hotel and Lodge-based Polar Bear Tours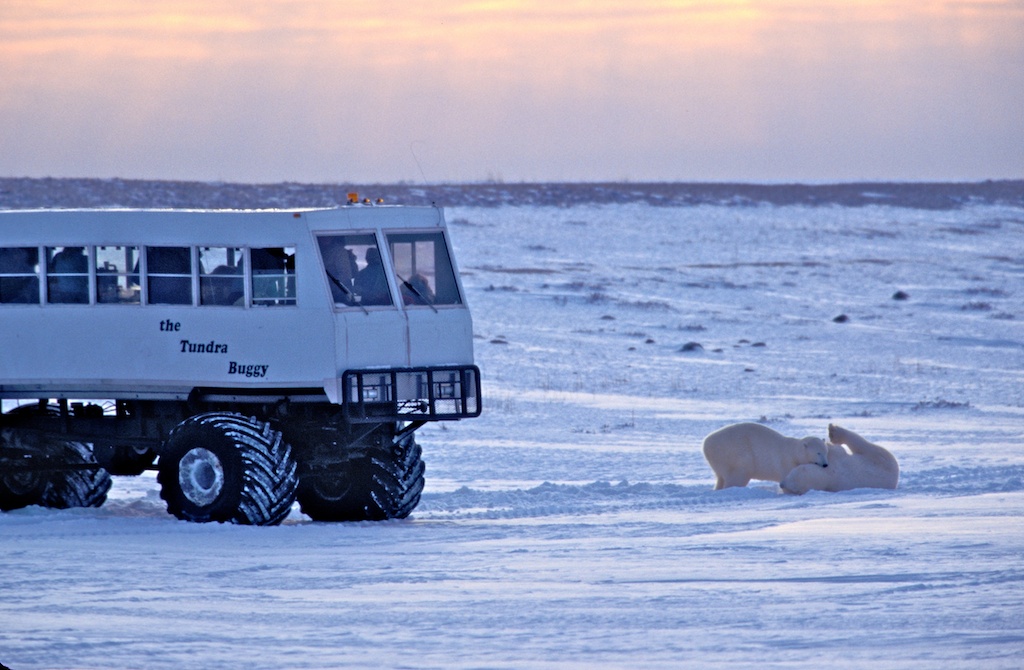 These are the original polar bear tours begun almost 30 years ago by International Wildlife Adventures' founders and use the now-famous Tundra Buggies®, enormous all-wheel-drive vehicles, to roam the tundra and view the bears from. Each buggy can hold from 22 to 48 passengers, have on-board restrooms, openable windows on all sides and an outdoor back deck or platform for unrestricted viewing and photography.
There are several levels of trips to fit your interest and budget: Adventurer, Enthusiast, Specialist and Cape Churchill.
Hotel-based: One advantage of the hotel-based trips is that you have your own private hotel room at night, eat in a variety of town restaurants for breakfast and dinner and have time to explore the little frontier town of Churchill. While Churchill doesn't have any large, chain hotels, we use several small, modest but comfortable family-run hotels in town.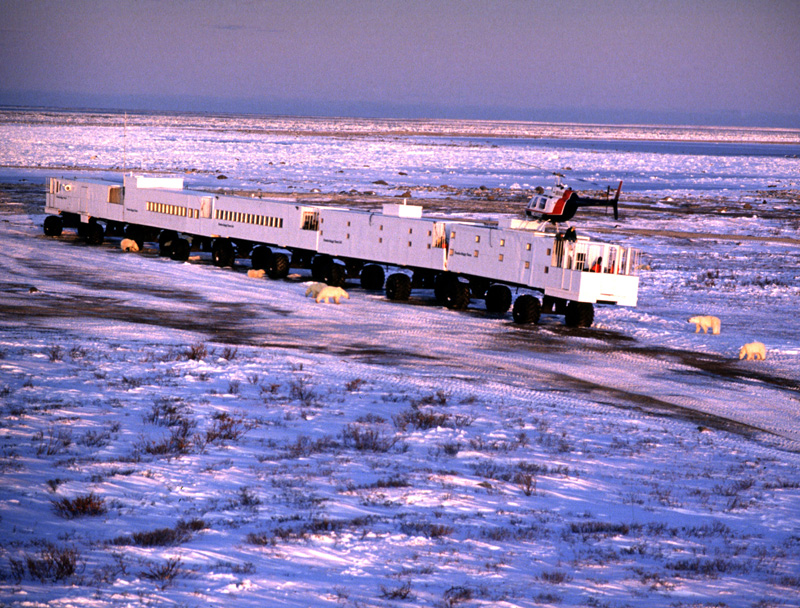 Tundra Lodge-based: An alternative is to choose one of the Tundra Lodge-based trips. The Tundra Lodge is a giant, mobile facility composed of linked-together modular units that are pulled by the Tundra Buggies and parked in the prime bear viewing area on the Hudson Bay shore, east of Churchill. The facility is reminiscent of a passenger train, with a dining module, lounge and sleeper modules, all linked with outdoor viewing decks.

On the lodge-based style, you use tundra buggies to view the bears during the day (in the exact same area that the hotel-based trips utilize), but return to the tundra lodge at night. The prime advantage of this style is you have more time on the tundra because there is very little "commute time" back to your night's lodging. And, the bears gather all around the lodge so that you can watch them even at night! The tundra lodge also has outdoor viewing platforms for easy viewing and photography.
---
Permanent-style Wilderness Lodge-based Polar Bear Tours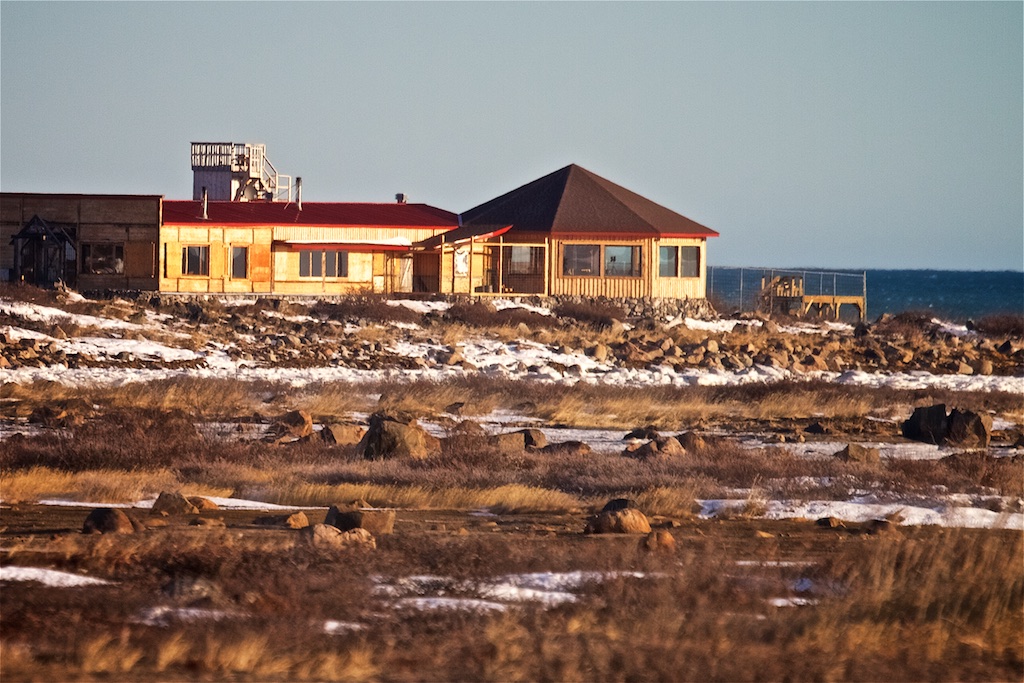 These polar bear excursions utilize several classic Canadian fixed and remote wilderness lodges some distance from Churchill town. Access is by bush plane or helicopter. Eash lodge is totally self-contained with warm, comfortable private accomodations, excellent food with a cheery wood stove and full-stocked bar to relax after a long day of bear-watching.
One advantage of this style of polar bear tours, aside from the cozy creature comforts, is that you get to walk the tundra during the day to view and photograph the polar bears and other Arctic wildlife! There are fewer greater thrills than standing on the tundra with an adult polar bear, weighing some 800-1000 pounds just a short distance away.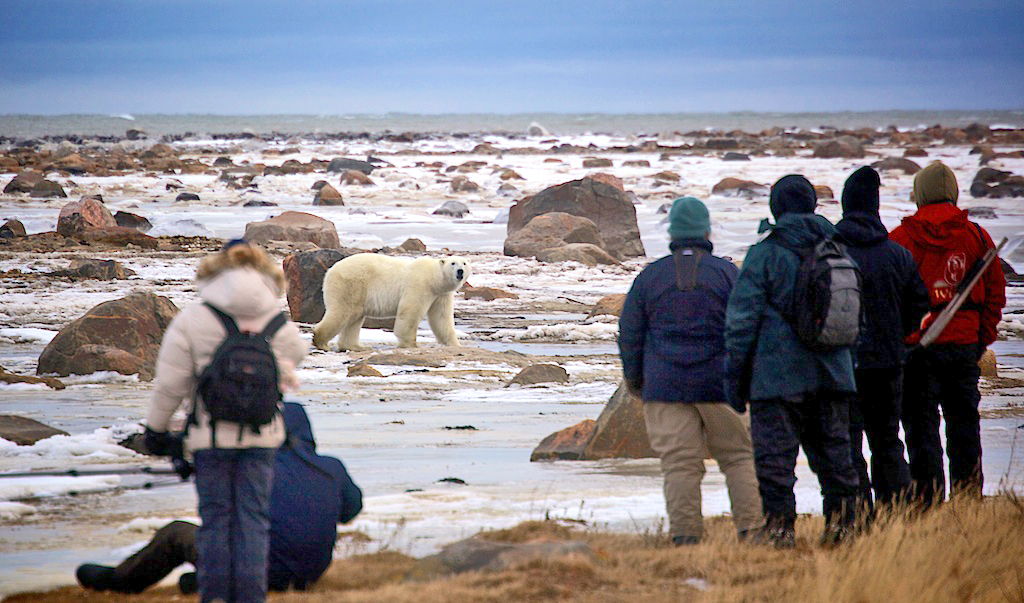 Your guides are experienced wilderness guides and carry protection from the bears. But one thing you will quickly learn is that other than being curious, the polar bears are more interested in playing and sparring with each other than the group of humans on the tundra! This is an extremely exciting one-of-a-kind style of trip, but does require the ability to walk on uneven, frozen ground to be fully enjoyed.
---

Polar Bear Trip Style Comparison

Hotel-based

Tundra Lodge-based

Wilderness Lodge

View bears from the world-famous Tundra Buggies®
Daily trips to the prime bear-viewing area
Stay in comfortable hotels in Churchil
Activities such as dog sledding and native culture available

Stay in mobile lodge in prime bear-viewing area
Outside viewing decks between each lodge module
Daily trips to view bears in Tundra Buggies®
See bears around lodge at night, & northern lights

Stay in classic Canadian wilderness lodge
Daily walks on the tundra to view & photograph bears & other wildlife
Bear-safe outdoor area for viewing from lodge
Exciting flight to lodge by bush plane
---
Best Time to See the Polar Bears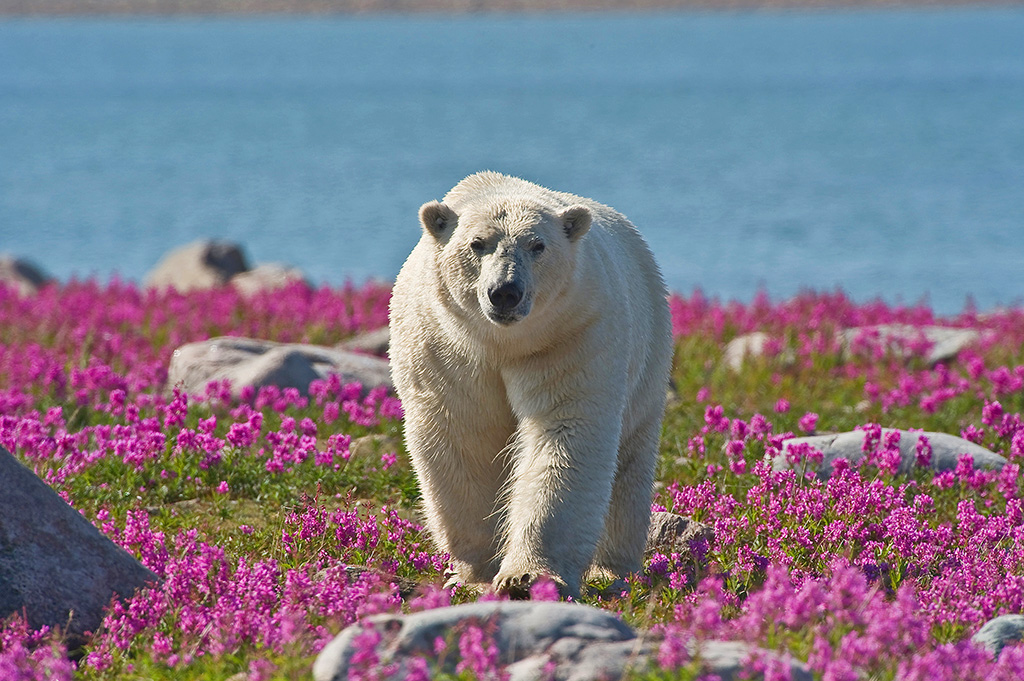 From late November to June/July, polar bears spend as much time on the ice as they can hunting their favorite prey, ringed and bearded seals. After the ice melts, they come ashore to spend the summer and early fall resting, hanging out and conserving energy, waiting for the next freeze-up in the fall. So the bears can be seen during this period, summer or fall, but they do tend to concentrate along the Hudson Bay shore as cold weather approaches, making them easier to see in larger numbers. Except for occasional opportunistic feeding on carrion, they fast and live off their fat stores from June to November.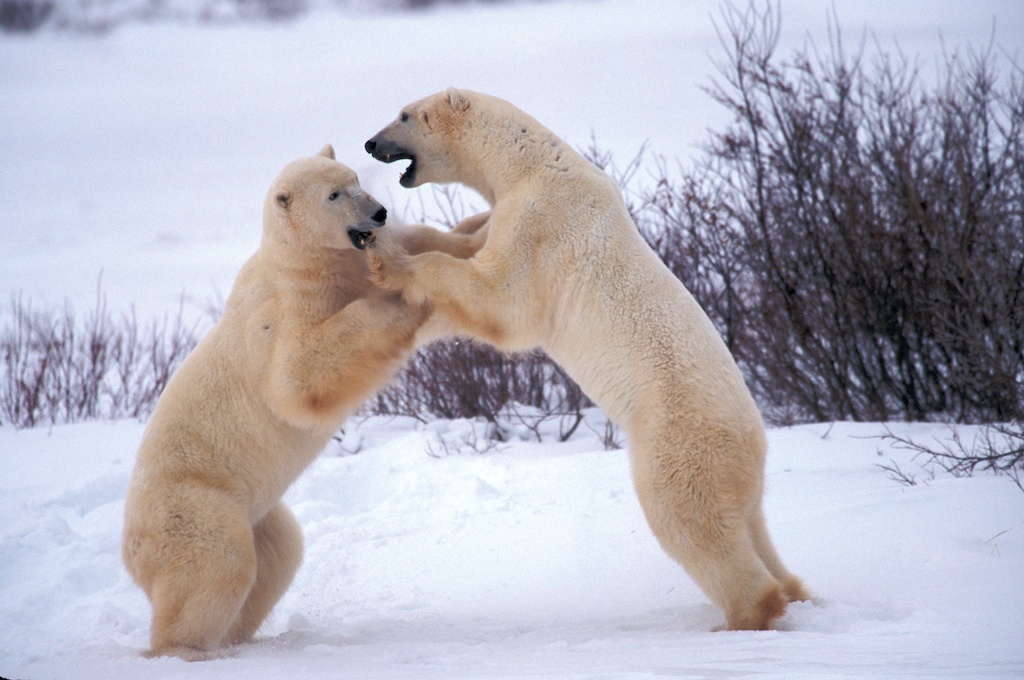 IWA offers trips in both summer and fall, but they are very different style trips. Summer provides the chance to see the bears on the flowering tundra, along with other seasonal species such as beluga whales in the Churchill and Seal River estuaries. By October, snow starts to fall and by early November it's there to stay for the duriation of winter. Ponds skim over with ice and sea ice starts building along the bay shore. The world becomes white and the bears are finally in their element once again. They become more active, and spend hours sparring with their friends and wandering around the shore.
To sum up:
Late June - Mid-August: Great for seeing bears on the greening and flowering tundra, as well as other birds and wildlife. Birds and other mammals are having their young, so there are good chances to see chicks and babies!
October - November: This is the classic polar bear season when you are likely to see greater concentrations of bears on snowy tundra.
What's the Temperature Like When I Want to Go? Churchill Climate Data
Climate data for Churchill Airport (1981−2010)
Month
Jan
Feb
Mar
Apr
May
Jun
Jul
Aug
Sep
Oct
Nov
Dec
Year
Record high humidex
1.2
1.7
8.3
28.0
30.7
36.2
39.7
44.2
34.1
23.0
5.4
2.8
44.2
Record high °C (°F)
1.7
(35.1)
1.8
(35.2)
9.0
(48.2)
28.2
(82.8)
28.9
(84)
32.2
(90)
34.0
(93.2)
36.9
(98.4)
29.2
(84.6)
20.6
(69.1)
7.2
(45)
3.0
(37.4)
36.9
(98.4)
Average high °C (°F)
−21.9
(−7.4)
−20.2
(−4.4)
−13.9
(7)
−5.1
(22.8)
2.9
(37.2)
12.0
(53.6)
18.0
(64.4)
16.8
(62.2)
9.5
(49.1)
1.6
(34.9)
−9
(16)
−17.8
(0)
−2.3
(27.9)
Daily mean °C (°F)
−26
(−15)
−24.5
(−12.1)
−18.9
(−2)
−9.8
(14.4)
−1
(30)
7.0
(44.6)
12.7
(54.9)
12.3
(54.1)
6.4
(43.5)
−1.2
(29.8)
−12.7
(9.1)
−21.9
(−7.4)
−6.5
(20.3)
Average low °C (°F)
−30.1
(−22.2)
−28.8
(−19.8)
−23.9
(−11)
−14.4
(6.1)
−5
(23)
2.0
(35.6)
7.3
(45.1)
7.7
(45.9)
3.2
(37.8)
−3.9
(25)
−16.4
(2.5)
−25.9
(−14.6)
−10.7
(12.7)
Record low °C (°F)
−45
(−49)
−45.4
(−49.7)
−43.9
(−47)
−33.3
(−27.9)
−25.2
(−13.4)
−9.4
(15.1)
−2.2
(28)
−2.2
(28)
−11.7
(10.9)
−24.5
(−12.1)
−36.1
(−33)
−41.8
(−43.2)
−45.4
(−49.7)
Record low wind chill
−64.4
−62.6
−62.8
−46.9
−37.1
−12.7
−6.9
−6.2
−16.7
−35.5
−51.1
−59.1
−64.4
Average precipitation mm (inches)
18.7
(0.736)
16.6
(0.654)
18.1
(0.713)
23.6
(0.929)
30.0
(1.181)
44.2
(1.74)
59.8
(2.354)
69.4
(2.732)
69.9
(2.752)
48.4
(1.906)
35.5
(1.398)
18.4
(0.724)
452.5
(17.815)
Average rainfall mm (inches)
0.0
(0)
0.0
(0)
0.4
(0.016)
1.1
(0.043)
16.1
(0.634)
41.0
(1.614)
59.8
(2.354)
69.3
(2.728)
66.0
(2.598)
20.9
(0.823)
1.3
(0.051)
0.1
(0.004)
276.0
(10.866)
Average snowfall cm (inches)
21.7
(8.54)
19.3
(7.6)
20.4
(8.03)
24.9
(9.8)
15.5
(6.1)
3.3
(1.3)
0.0
(0)
0.0
(0)
4.2
(1.65)
29.8
(11.73)
39.2
(15.43)
22.9
(9.02)
201.2
(79.21)
Average precipitation days

(≥ 0.2 mm)

11.9
10.2
11.0
8.9
10.2
12.0
13.9
15.4
15.9
15.7
15.5
11.9
152.6
Average rainy days

(≥ 0.2 mm)

0.09
0.05
0.45
1.4
5.1
10.7
13.9
14.9
14.5
6.5
0.91
0.24
67.5
Average snowy days

(≥ 0.2 cm)

11.9
10.3
11.1
8.3
6.7
1.5
0.0
0.06
2.6
11.6
15.6
12.3
92.1
Mean monthly sunshine hours
79.7
117.7
177.8
198.2
197.0
243.0
281.7
225.9
112.0
58.1
55.3
53.1
1,799.5
Percent possible sunshine
36.2
45.1
48.7
45.8
37.7
44.3
51.6
47.2
29.0
18.2
23.5
26.7
37.8
Source: Environment Canada
Where is Churchill and How do I get there?
Churchill is is a tiny little town located on the mouth of the Churchill River, mid-way up the west coast of Hudson Bay, and some 600 miles north of Winnipeg, Manitoba.
The only land route to Churchill is by air or train. There are no roads connecting the town with the rest of Manitoba. While most of our trips fly roundtrip to Churchill from Winnipeg, some options include the train one direction and return by air. See the Adventurer and Enthusiast Tundra Buggy trips, above, for dates with the train option.
All trips, including our Tundra Buggy-based trips and our lodge-based trips, include round-trip transportation from Winnipeg and return. Participants are responsible for getting themselves to Winnipeg, Manitoba. United, Air Canada, American and Delta all fly into Winnipeg.
Geography and History of Churchill
Churchill lies at the mouth of the Churchill River estuary, one of the most important and historical rivers in Manitoba.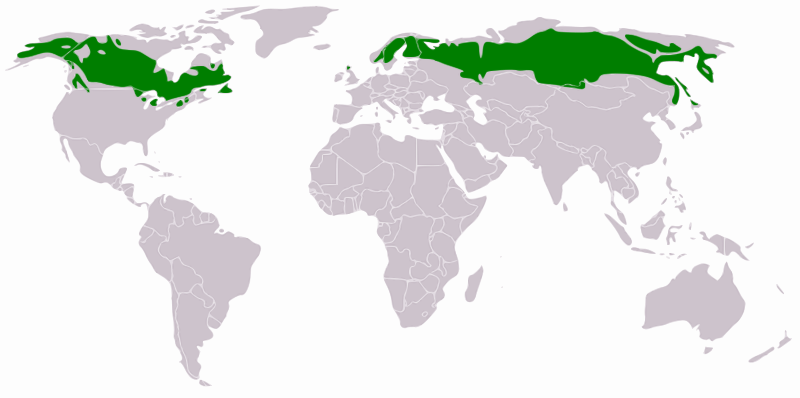 To the south and west of Churchill is the vast boreal (boreal means northern) forest, composed primarily of black and white spruce, plus some larch and birch. It is enormous and circumpolar: vast tracts lie across Canada, Alaska, Russia and Scandanavia, and is the world's largest biome. As one ventures farther north in Manitoba and towards Hudson Bay, the forest gives way to tundra. On the tundra, the tree species begin to change, comprised mainly of dwarf willows and birch, some only a few inches tall. Moss and lichens dominate much of the ground surface as do annual wildflowers in the summer.
Churchill has been a crossroads of ethnic groups for millenia. As far as is known, Thule people, ancestors of present-day Iniut, arrived around 1000AD followed by the Dene about 500 years later. Before European contact, most of the local inhabitants were modern-day Cree and Chipewyan bands.

The first European to arrive was the ill-fated Jens Munk party from Denmark in 1619. They were promplty stranded and had to overwinter at what is now present-day Churchill. Only three of 64 survived the winter, most dying of scurvy. Munk was one of the survivors and he and the other two crewment sailed a small sloop back to Denmark.
In 1717, the Hudson's Bay Company (the world's oldest corporation) established the first permanent settlement. It's store operated until only about 20 years ago and was the main source of food and general goods available to Churchill residents.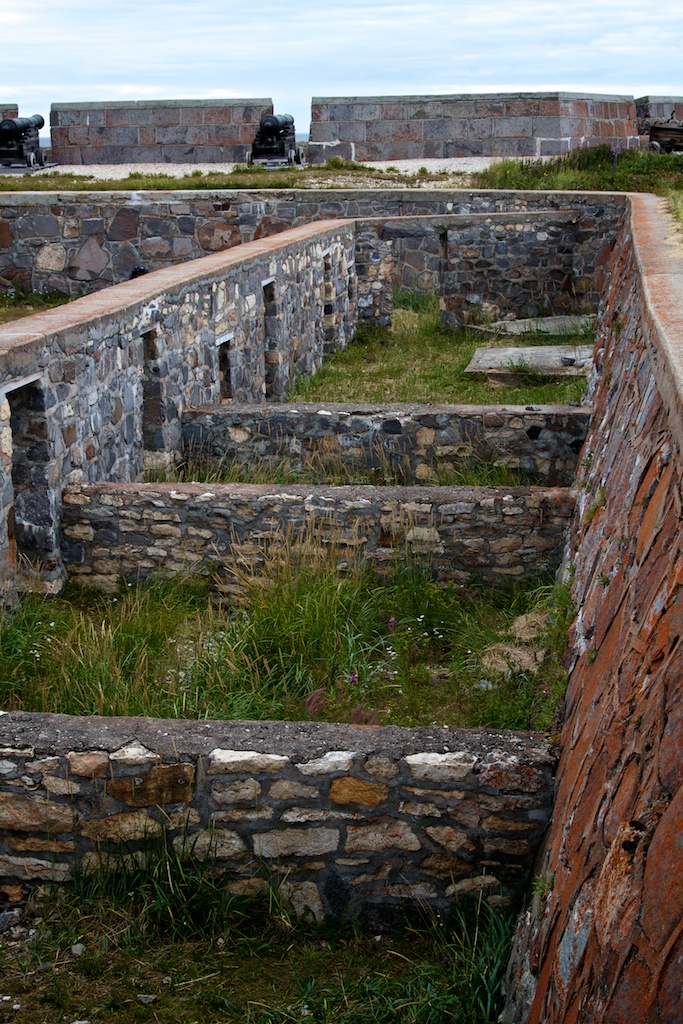 In 1731–1741, the Fort Prince of Wales was built - a massive stone structure overlooking the mouth of the river. It's now a national park and can be visited during the summer months and viewed across the river from a small satellite embattlement on the Churchill side. Most of our Tundra Buggy tours include a visit to the viewing point.
In 1942, Fort Churchill was established at the site of the current Churchill airport, east of town. It housed up to 15,000 during and after WWII and the Cold War, when it was operated as a Strategic Air Command base, part of the Distant Early Warning, or DEW line.
In 1929, a rail line was built across the boreal forest and muskeg from Winnipeg and a sea port was established to export grain and other commodities to Europe. It is this line that serves current travelers to Churchill on VIA Rail.
Since then Churchill's population has dwindled to only around 800 residents. The main economy comes from health services provided to the remote northern peoples, the Port of Churchill and nowadays, tourism.